Free Learning Management System
Effective LMS for your Training Needs
Odoo Learning Management System LMS (eLearning solution) is the one of the best easy to implement and effective Learning Management System to enable Community learning, share knowledge, and inspire others! It fits the needs for any business in the training field and preferred by educators, instructors, coaches, managers, on-boarding staff, or even e-learning superheroes - search no more:

A learning management system (LMS) is a software application for the administration, documentation, tracking, reporting and delivery of electronic educational technology (also called e-learning) courses or training programs. There are many open-source LMS software like Moodle (widely used by universities) and Sakai ( mainly for schools), ELMS and more which are free to use but difficult to implement and to use. It generally requires a technical team to install, implement, and maintain it. Here that advantage of Odoo eLearning shows up, any one can use it in few hours and build a full working LMS for their organization in few days ready for training content developer to build their e learning courses and start delivering it to learners.

Odoo is mobile friendly supporting mLearing or Mobile learning via it's full responsive design approach. In addition, odoo provide a powerful gratification tools to support the eLearning program. Gamification is the concept of using game design and mechanics to enhance learning with non-game contexts by increasing participation, engagement, loyalty and competition. These methods can include points, leader-boards, direct competitions and badges,
On the hand, Odoo eLearning can be integrated with other odoo application related to HR management such as odoo Appraisal and Survey. Odoo integrated apps cover the full cycle of employment from Job posting through the stages of filter job applicants, interviewing, evaluating and hiring them. Followed by, on-boarding, induction training, coaching and mentoring, continuous learning, and skills management.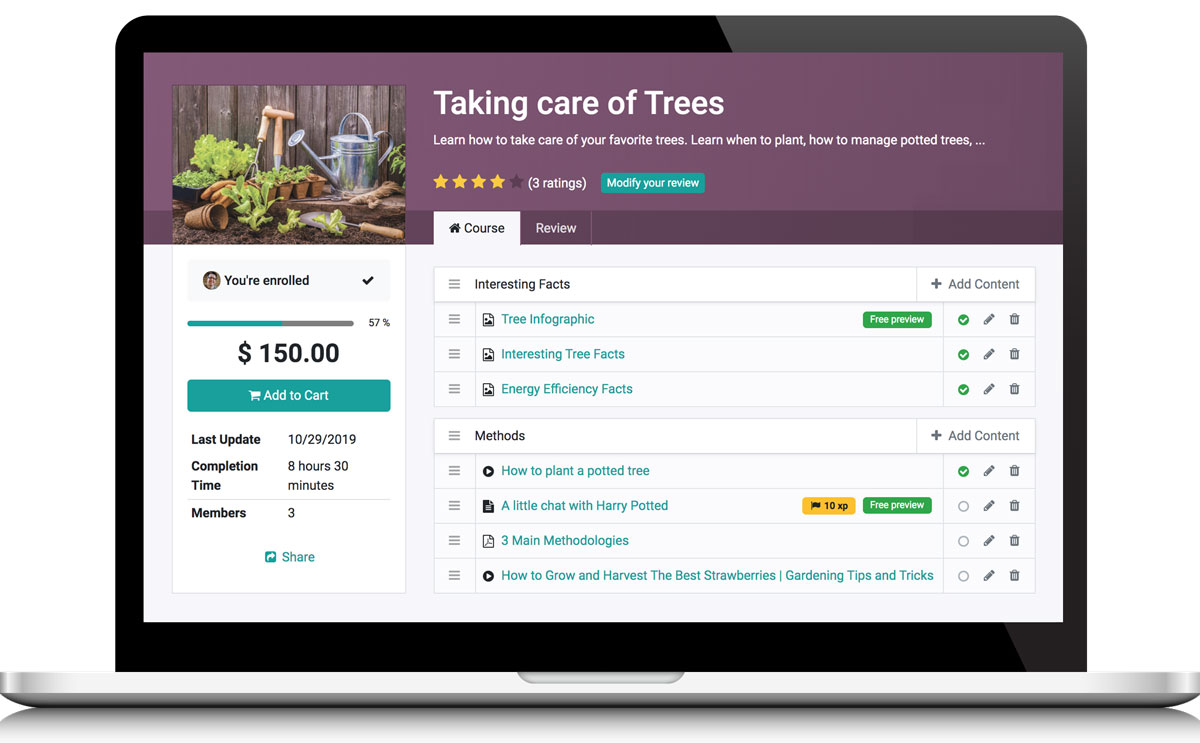 User-Friendly LMS
Easy to use for educators, content developers, instructional designers,humane resources, training and competencies managers as well as for students and trainees.
Get things done, satisfy your business training needs, at the same time get detailed valuable feedback and track learning activities with powerful and easy to use tools.
Odoo LMS Features
some features of odoo eLearning
Rapid Editing
Drag & drop creation of pages with infographics and animations.
Quizzes and Reviews
Check how well people are learning and what they think of the content.
Certifications
Score advanced tests and see how many attempts lead to success.




Self-paced Learning
Group lessons into sections and show participants their progress.
Engaging Content
Videos, Web pages, Presentations, Documents - watch on any device!
Metrics
Measure participation, feedback and see revenue reports.